Monday Folder 5.1.17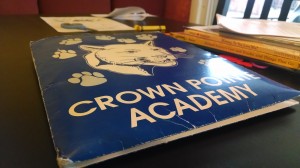 May 1, 2017
Our Mission: The mission of Crown Pointe Academy is to promote creativity,
curiosity, character, and community in a challenging Core Knowledge
environment.
Progress reports were sent home with students today.  If your student has fines or fees of $10.00 or greater, his/her progress report was held at the office.  Please note that ALL fines and fees must be paid by the end of the school year to receive your student's final report card, so please stop by as soon as possible to take care of any outstanding fines or fees.  Contact Sandi MacGregor with any questions.
The annual CPA's Got Talent Show is this Friday, May 5th at 9:30 in the gym. Contact Ms. O'Neal if you have any questions about the talent show.
Next week is Teacher Appreciation Week.  If you would like to help PTA with some special activities, please sign up here.  For more information, please see the PTA section of today's Update newsletter (attached).
Skate City summer passes are available for purchase!  Each card is $3.00 and allows the card holder to skate for $1.00 per session all summer long.  See the flyer on the CPA website for more information.
All library materials are due by Thursday, May 11th.  Please contact Mrs. Strick at extension 306 with any library questions.
This week's documents include:
Middle School Newsletter 5.1.17
Update 5.1.17
Middle School Electives Selection 2017-2018
Shelter Box Flyer
Skate City Summer Pass Flyer
The EXPO Learning Lab is looking for parents and community members to share their talents with students.  The EXPO is an all hands on learning environment that CPA launched this year.
If you would like to sponsor the EXPO, check us out online here, or like us on Facebook to receive updates and information about what is happening in the EXPO classes.