Monday Folder 5.11.15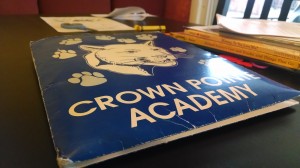 CROWN POINTE ACADEMY
SCHOOL NEWS
Monday, May 11, 2015
 Mission Statement:
The mission of Crown Pointe Academy is to promote creativity, curiosity, character and community in a challenging Core Knowledge environment.
PARCC testing today, Monday, May 11th for Middle school students.   Student attendance during the testing window is critical!  All testing takes place in the mornings prior to lunch, so please plan any appointments for the afternoon.  Contact Mr. Ouweneel, Mrs. Keyes, or your child's teacher if you have any questions.  
ALL library books must be turned in.  Please contact Mrs. Strick with any questions.     
It's important to make sure that any fines and/or fees are paid before the end of the school year.  Students with unpaid fines and/or fees will have their report card held.   
Please check out the lost & found items displayed at the front office.  Any items not retrieved by Thursday, May 21st will be donated. 
Skate City Summer Passes Available!  Each card costs $3, and allows the bearer to skate for just $1 per session ALL SUMMER LONG!  
BOGO Bookfair will be held on Thursday and Friday.  All students may purchase books for summer reading.
Only a few more yearbooks available.  Get one before its too late!
Event on the Calendar:

Wednesday, May 13th – Academy Board meeting at 7:00 p.m.
Thursday, May 14th – Field Day 3rd – 5th, 8:30-11:30 a.m. & K – 2nd, 12:00-3:00 p.m.

Monday folder flyers for this week are: