Monday Folder 5.15.17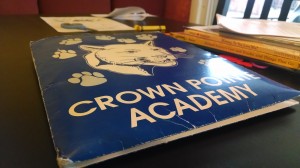 May 15, 2017
Our Mission: The mission of Crown Pointe Academy is to promote creativity, curiosity, character, and community in a challenging Core Knowledge environment.
Due to weather forecasts, Field Day has been moved to Wednesday, May 17th.  3rd-5th grades will have Field Day from 8:20 to 11:20 a.m., and K-2nd grades will have Field Day from 12:10-3:10 p.m.  Contact the front office or Mr. Varner with any questions.
The Elementary and Middle School Awards Assemblies are this Friday, May 19th.  Elementary awards will take place at 1:00 and Middle School awards will take place at 2:00.  Families of students receiving certificates will be notified by email today.  Contact the front office or Erin Keyes if you have any questions.
Help CPA's Middle School Destination Imagination team get to the Global competition in Knoxville, Tennessee!  See the flyers on the CPA website for information about the Snack Shack at Field Day and the Panda Express fundraiser taking place on Thursday night.  Thank you for your support!
This week's documents include:
Middle School Newsletter 5.15.17
Update 5.15.17
Snack Shack Destination Imagination Flyer
Panda Express Night – Destination Imagination Fundraiser
Cicis Flyer – Spanish Fundrasier
Boy Scouts Flyer

The EXPO Learning Lab is looking for parents and community members to share their talents with students.  The EXPO is an all hands on learning environment that CPA launched this year.
If you would like to sponsor the EXPO, check us out online here, or like us on Facebook to receive updates and information about what is happening in the EXPO classes.