Monday Folder 5.16.16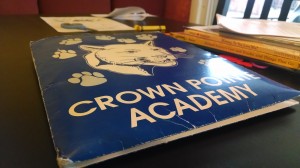 May 16, 2016
Our Mission: The mission of Crown Pointe Academy is to promote creativity, curiosity, character, and community in a challenging Core Knowledge environment.
In order to receive your student's final report card, please stop by the office as soon as possible and take care of any fines or fees.  Report cards/student records will not be released until all fines and fees are cleared.
The CPA Student Council is still selling Skate City Summer Membership cards.  When you purchase a card for $3.00, you can skate all summer for just $1.00 during select sessions (skate rental is $2.50).  The order form is available on the CPA website.  Get yours while they're still available!
We have a few copies of the yearbook still available for purchase at the office.  The extra yearbooks are available on a first come, first served basis by going to the office in person to reserve your copy.  You must pre-pay the $16.50 per yearbook when you reserve your copy.  Please note that phone or email orders will not be accepted.  Limit 2 per family.
As a school, we logged 9,084 volunteer hours this year.  Recording your hours for next school year can start on May 21st.  You can continue to send an email to volunteer@crownpointeacademy.org to log your hours over the summer, or you can fill out the paper form in August.
Thank you to all CPA families for a great school year.  Watch your mailboxes in July for our summer mailer which will include information on registration, class placement, and testing.  We will also keep all families informed about the construction of the new Expo building, and the details of an event coming up this fall celebrating Crown Pointe Academy's 20th year.
This week's documents include:
Middle School Newsletter 5.16.16
Skate City Summer Card Order Form
Dickey's BBQ Flyer – Spanish Trip Fundraiser
Have a great week!