Monday folder 5.18.15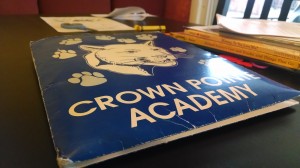 CROWN POINTE ACADEMY
SCHOOL NEWS
Monday, May 18, 2015
Mission Statement:
The mission of Crown Pointe Academy is to promote creativity, curiosity, character and community in a challenging Core Knowledge environment.
Last week of school! 
Friday, May 22nd is the last day of school for students.  In order to receive your student's final report card, all fines and/or fees must be paid. 
Middle School students will not receive their report on the last day of school.  Report cards will be mailed if your students does not owe any fines and/or fees.   
If you student has a negative lunch account balance, they will not be able to charge this week.       
Last week to check out the lost & found items displayed at the front office.  Any items not retrieved by Thursday will be donated. 
Don't forget to get your Skate City Summer Passes!  Each card costs $3, and allows the bearer to skate for just $1 per session ALL SUMMER LONG!  
There is still time to order your school supply kit for next year.  Save yourself the hustle and bustle of back to school shopping and fighting crowds and have your kits delivered to your classroom.  You are just a few short steps away from stress free shopping.  Log into www.ordermypack.com  Enter our school ID: 108581. Select your student's grade for next year and place your order.  It's that easy!  Orders can be placed online until 7/15/15 and at the school until 7/2/15.  Order forms were sent home a few weeks ago and each student need to have an order form filled out if paying at the school.  If you are paying at the school please make checks payable to CPA-PTA for your kit purchase.

Event on the Calendar: 
Tuesday, May 19th – Awards Assembly at 1:00 p.m.
Wednesday, May 20th – 8th Continuation Ceremony at 7:00 p.m.
Thursday, May 21st – Kindergarten Graduation Ceremony at 10:00 a.m.
Friday, May 22nd – Last day of School for students

HAVE A SAFE AND WONDERFUL SUMMER! 

Monday folder flyers for this week are:
Middle School Newsletter 5.18.15
School Supplies Kit Order Form
Zinga Fundraiser Flyer
Skate City Flyers
School Store Order Form
Mi Vida Srtings Flyer