Monday Folder 5.2.16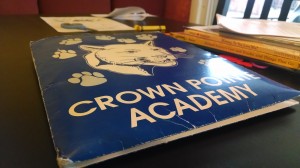 May 2, 2016

Our Mission: The mission of Crown Pointe Academy is to promote creativity,
curiosity, character, and community in a challenging Core Knowledge environment.
Join us for our last Parent Information Night and PTA meeting on Thursday, May 5th at 6:00 in the library.  See the Parent Info Night flyer on the CPA website for more information.
Save the date(s)!  Here are some end of year activity dates/deadlines coming up:
All library books and materials are due back this

Friday, May 6th

.
CPA's Got Talent Show:

Friday, May 6th at 9:30 a.m.

Field Day:

Thursday, May 12th

(Grades 3-5:

8:20-11:20 a.m.

, Grades K-2:

12:10-3:10 p.m.

)
Annual Awards Assembly:

Tuesday, May 17th at 1:00 p.m.

  More information to follow
As a school, we have logged 8,445 volunteer hours this year.  Help us reach our goal of 14,000 volunteer commitment hours by logging your volunteer time. Demonstrating strong parental involvement can help CPA qualify for grants and other funding opportunities, so it's important that every hour is recorded.  You can fill out the paper log and return it to the office, or you can record your hours online by sending an email to volunteer@crownpointeacademy.org.  Make sure to include your name, your student's name, and the total hours volunteered for the month in the email.  Thank you!
This week's documents include:
Middle School Newsletter 5.2.16
BOGO Book Fair Flyer
Hyland Hills Swim Lessons Flyer
Summer Reading & Reading Expectations
PTA Call for Candidates
Staff Appreciation Day Flyer
Compliment Cards for Staff Apprecation
PTA Info Night Flyer
Have a great week!