Monday Folder 5.22.17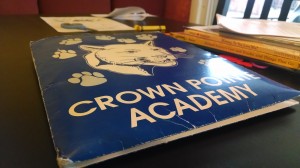 May 22, 2017
Our Mission: The mission of Crown Pointe Academy is to promote creativity, curiosity, character, and community in a challenging Core Knowledge environment.
It's hard to believe we have already reached the end of another school year.  Thank you for making this year a great success.  We wish all families a safe and happy summer vacation!
Please stop by the office as soon as possible to take care of any final fines or fees owed.  Final report cards will not be released and high school records for 8th grade students will not be sent until all fines and fees are taken care of.  Contact Sandi MacGregor with any questions.
All medications kept in the health room must be picked up by Thursday, May 25th at 4:00.  Please contact Diana Castellano if you have any questions.
We still have Skate City Summer Skate Cards available for purchase at the front office.  Each card is $3.00 and allows the card holder to skate for $1.00 per session all summer long.
This week's documents include:
Middle School Newsletter 5.22.17
1st Day School Supply Kit Flyer
Have a great week!