Monday Folder 5.4.15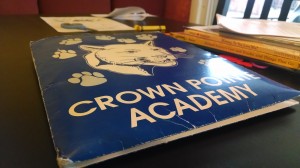 CROWN POINTE ACADEMY
SCHOOL NEWS
Monday, May 4, 2015
Mission Statement:
The mission of Crown Pointe Academy is to promote creativity, curiosity, character and community in a challenging Core Knowledge environment.
PARCC testing today, Monday May 4th and will continue daily through the week for elementary students grades 3-5.  Middle school students will start testing next Monday, May 11th.  Student attendance during the testing window is critical!  All testing takes place in the mornings prior to lunch, so please plan any appointments for the afternoon.  Contact Mr. Ouweneel, Mrs. Keyes, or your child's teacher if you have any questions.  
Make sure you keep recording your volunteer hours through the remainder of the school year.  We have logged over 10,000 hours to date.  Our final non-uniform day for volunteer hours is Wednesday, May 13th.  If you're close to completing your hours for the year, make sure you get them logged so that your student(s) can take advantage of that non-uniform day!
The school still has 6 copies of this year's yearbook for sale at the front office.  Yearbooks are $16.50 each.  You must pre-pay in person at the office.  Limit 2 per family.  
If you are unable to purchase a yearbook from the school, it's still not too late!  You can still visit www.TreeRing.com/validate and enter our code: 101392221425678.  Your yearbook will be shipped directly to your house (shipping rates apply).  Please note that the date has passed for delivery by the end of the school year for yearbook signing.  You will receive your yearbook in the month of June.  Please contact the office with questions.
ALL library materials are due by this Friday.
As the school year winds down, it's important to make sure that any fines and/or fees are paid.  Students with unpaid fines and/or fees at the end of the school year will have their report card held.   
Needed:  A wheelchair that can be donated to CPA.  If you know someone or company that may be able to assist with this need, please speak with Ms. Castellano ext 104.
Lost & found items are out on display. Be sure to stop by the front office and have a look.  Any items not retrieved by Thursday, May 21st will be donated. 
"Don't forget your Skate City Summer Passes!  Each card costs $3, and allows the bearer to skate for just $1 per session ALL SUMMER LONG!  
Event on the Calendar:
Thursday, May 7th – PTA meeting at 6:15 p.m.
Friday, May 8th – Talent Show at 9:30 a.m.
Friday, May 8th – Middle School Dance from 6:30-9:00 p.m.

Monday folder flyers for this week are: 
Middle School Newsletter 5.4.15
Hyland Hills Flyers
Rev Foods Special of the Day
Belize School Flyer