Monday Folder 5.8.17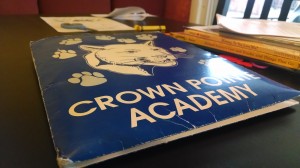 May 8, 2017
Our Mission: The mission of Crown Pointe Academy is to promote creativity, curiosity, character, and community in a challenging Core Knowledge environment.
One of our Crown Pointe Academy Destination Imagination teams took 1st place at the State competition and is heading to Knoxville, Tennessee to showcase their challenge solution in an international competition called GLOBAL FINALS 2017.  They are representing Crown Pointe on the "world stage".  The team known as Average Joe and the Narcoleptic Uber Drivers needs your help and support in getting to this once-in-a-lifetime event.  Please see the flyers on the CPA website or your student's Monday Folder for information on how you can help.  Thank you!
The school still has a few copies of this year's standard yearbook for sale.  If you are interested in purchasing a yearbook, stop by the office as soon as possible.  Yearbooks are available on a first come, first served basis, and you must pre-pay at $16.50 per book (limit 2 per family).  Yearbooks will be delivered to the school the week of May 22nd.
Skate City summer passes are available for purchase!  Each card is $3.00 and allows the card holder to skate for $1.00 per session all summer long.  See the flyer on the CPA website for more information.
All library materials are due by Thursday, May 11th.  Please contact Mrs. Strick at extension 306 with any library questions.
This week's documents include:
Middle School Newsletter 5.8.17
Snack Shack Destination Imagination Flyer
Panda Express Night Flyer – Destination Imagination Fundraiser
Cicis Night Flyer – Spanish Fundraiser
The EXPO Learning Lab is looking for parents and community members to share their talents with students.  The EXPO is an all hands on learning environment that CPA launched this year.
If you would like to sponsor the EXPO, check us out online here, or like us on Facebook to receive updates and information about what is happening in the EXPO classes.