Monday Folder 5.9.16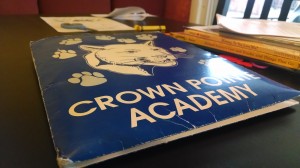 May 9, 2016

Our Mission: The mission of Crown Pointe Academy is to promote creativity, curiosity, character, and community in a challenging Core Knowledge environment.
The CPA Student Council is selling Skate City Summer Membership cards.  When you purchase a card for $3.00, you can skate all summer for just $1.00 during select sessions (skate rental is $2.50).  The order form is available on the CPA website.  Skate Cards will be sent home at the end of next week.
If you were unable to order a copy of the yearbook, the school did purchase a limited number of extra yearbooks.  The extra yearbooks are available on a first come, first served basis by going to the office in person to reserve your copy.  You must pre-pay the $16.50 per yearbook when you reserve your copy.  Please note that phone or email orders will not be accepted.  Limit 2 per family.  Please see today's Update newsletter with more information.
As a school, we have logged 8,800 volunteer hours this year.  Help us reach our goal of 14,000 volunteer commitment hours by logging your volunteer time. Demonstrating strong parental involvement can help CPA qualify for grants and other funding opportunities, so it's important that every hour is recorded.  You can fill out the paper log and return it to the office, or you can record your hours online by sending an email to volunteer@crownpointeacademy.org.  Make sure to include your name, your student's name, and the total hours volunteered for the month in the email.  Thank you!
This week's documents include:
Middle School Newsletter 5.9.16
Update 5.9.16
Field Day Information
Skate City Summer Card Order Form
Dickey's BBQ Flyer – Spanish Trip Fundraiser
Have a great week!