Monday Folder 8.21.17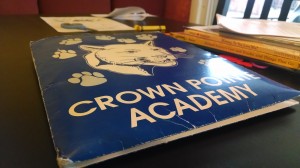 August 21, 2017
Our Mission: The mission of Crown Pointe Academy is to promote creativity, curiosity, character, and community in a challenging Core Knowledge environment.
We hope that everyone had a great weekend!
Crown Pointe Academy's 20th Anniversary celebration is coming up in September, and the planning committee has many wonderful activities scheduled!  Save the dates!  Monday, September 11th is a community dinner from 5:00-9:00 p.m., Friday, September 15th is the Decades Dance from 6:00-8:30, and Saturday, September 16th is our 20th Anniversary BBQ from 4:00-7:00 p.m.  See the attached flyer for more specifics about what the week entails.  If you would like to help with the planning of any of these events, please join us for our next meeting this Wednesday, August 23rd at 5:30 in the CPA library.
This week's documents include:
August Breakfast and Lunch Menu
August Reading Calendar
Commitment Hours Form
Elementary PE Home Expectations
FISH Team Flyer-Sign Up
Morning Open Gym
FERPA Rights
FERPA Directory Information
Hyland Hills 2017 Fall Baseball & Softball
Hyland Hills 2017 Fall Soccer Flyer
Hyland Hills 2017 Fall Volleyball Flyer
Hyland Hills 2017 Wrestling Flyer
20th Anniversary Events Flyer
Have a great week!