Monday Folder 8.28.17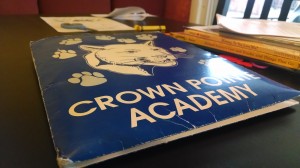 August 28, 2017
Our mission: The mission of Crown Pointe Academy is to promote creativity, curiosity, character, and community in a challenging Core Knowledge environment.
We hope that everyone had a great weekend!
Save the date!  The first PTA meeting for the year is coming up on Thursday, September 7th at 6:00 p.m. in the CPA library and everyone is encouraged to attend.  Come to find out many of the ways you can be involved at CPA this year.
Crown Pointe Academy's 20th anniversary celebration is coming up the week of September 11th, and the planning committee has many exciting activities scheduled.  If you would like to volunteer for any of the events, please sign up here.  For more specific details about what each event entails, see the flyer on the CPA website or check out this week's Update.
The first edition of the Update for the year is attached.  The Update is a bi-weekly newsletter that contains information for the whole school.  The Update will be attached to the email blast every other week, and you can also find it with all of the Monday Folder documents on the CPA website.
Please remember to record all of your volunteer hours and help us reach our volunteering goal for the year.  Demonstrating strong parental involvement can help CPA qualify for grants and other funding opportunities, so it's important that every hour is recorded.  You can fill out the paper log and return it to the office, or you can record your hours online by sending an email to volunteer@crownpointeacademy.org.  Make sure to include your name, your student's name, and the total hours volunteered for the month in the email.  Thank you!
This week's documents include:
Update 8.28.17
September Breakfast and Lunch Menu
September Reading Calendar
September Commitment Hours Form
CPA PTA flyer
Learning Heroes Super 5 Back to School Tips
Parents Right to Know Letter
Elementary PE Home Expectations
FISH Team Flyer-Sign Up
Morning Open Gym
September Spanish Newsletter
Have a great week!