Monday Folder 8.31.15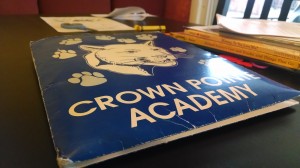 August 31, 2015
Our Mission: The mission of Crown Pointe Academy is to promote creativity, curiosity, character, and community in a challenging Core Knowledge environment.
Thank you to all who attended the Back to School picnic last Friday!  We had a great turnout.  Thank you to PTA and all of the volunteers for organizing this fun event.
Please join us for our first PTA meeting this Thursday, September 3rd at 6:15 in the CPA library.  Child care will be provided.  We hope to see you there!
8th Grade parents: ropes course packets went home with students today.  All forms need to be filled out and turned in with $20 by Monday, Sept. 21st for the Sept. 24th field trip.  We need drivers.  Check with the front desk to see if your paperwork is turned in or to get paperwork to be able to drive on this
field trip.
Don't forget to record your volunteer commitment hours for the year and help us reach our goal of 14,000 hours.  Your can record your hours by filling out the monthly log and turning in to the office, or you can send an email to volunteer@crownpointeacademy.org.  Please be sure to include your name, your students' names, and the total hours volunteered for the month.
Documents for this week include:
Community Service Time Log and Reflection (Middle School)
Denver American Indian Festival Flyer
Futbolito League (6th-8th Grade)
Middle School Newsletter 8.31.15
Outer Edge Performance Field Trip (8th Grade)
Science Fair Guidelines
Science Fair Information
September Commitment Hours Log
September Menu
September Reading Calendar
Update 8.31.15
Van Gogh Order Information