Monday Folder 9.14.15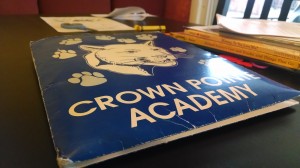 September 14, 2015
Our Mission: The mission of Crown Pointe Academy is to promote creativity, curiosity, character, and community in a challenging Core Knowledge environment.
Middle School Happenings-
Infinite Campus- All students created a username and password for Infinite Campus (IC) last Friday.  The students can log on and check their grades and missing assignments.  IC can be found through www.crownpointeacademy.org, clicking Parents Portal and selecting Infinite Campus Portal in the drop down menu.  If they are having problems, have the student talk with their cougar time teacher
Missing Assignments- Missing Work notices are being handed out in all core classes to your student.  All missing work must be completed by THIS FRIDAY, Sept. 18th to have any credit.
The planner, the planner, the planner…. this is the best way to see what is happening in the life of your student.  You can also read the newsletter online under Monday Folder items.
Join us for Volunteer Work Night this Friday, September 18th from 5:30-8:30 p.m.  Earn some commitment hours while having fun and meeting other CPA families.  Drinks, light snacks, and child care will be provided.  We hope to see you there!
Help us reach our goal of 14,000 volunteer commitment hours by logging your volunteer hours!  Demonstrating strong parental involvement can help CPA qualify for grants and other funding opportunities, so it's important that every hour is recorded!  You can fill out the paper log and return it to the office, or you can record your hours online by sending an email to volunteer@crownpointeacademy.org.  Make sure to include your name, your student's name, and the total hours volunteered for the month in the email.  Thank you!
Please view the attached letter with Title I information.
This week's documents include:
Update 9.14.15
Middle School Newsletter 9.14.15
PTA Information Night
Panda Express – Spanish Trip Fundraiser
Title I Information
Have a great week!