Monday Folder 9.15.14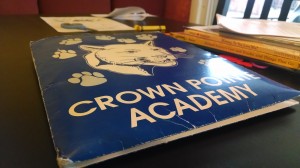 Happy Monday!
The grading period ends September 17th. Progress reports will go home September 22nd. If you owe more than $10.00 in fines and/or fees you will not receive your progress report. Please contact Mrs. MacGregor if you have any questions.
Middle School Parents: In today's Monday folder, you will find your student's missing work, in each of his/her core classes. Students have until Thursday, September 18th to turn in any missing assignments or take any missing tests or quizzes, in order to receive up to 40% credit for the work. No missing work will be accepted for credit after the 19th. If you have any questions, feel free to contact any of the middle school teachers.
Save the Date! The first Volunteer Work Night will be on Friday, September 26th from 5:30-8:30 p.m. Join us and complete teacher and classroom projects, meet CPA parents and staff members, and fulfill your commitment hours in a meaningful way. Drinks, snacks, and child care are provided. We hope to see you there!
Remember to log your volunteer hours! The Academy Board has set a goal for the school to reach 14,000 volunteer hours this year. Every hour recorded helps CPA and has the potential to qualify our school for funding opportunities such as grants. Watch for a change to the volunteer bulletin board by the main office as we record each step towards achieving our goal.
NO SCHOOL FRIDAY, September 19th for students. Teacher Work Day
Have a great week!
Events on the calendar for this week are:
Cougar Classic Committee Meeting – Tuesday, September 16th @ 6:15 p.m.
Academy Board Sub-Committee Meeting – Tuesday, September 16th @ 7:00 p.m.
BAAC Meeting – Wednesday, September 17th @ 6:30 p.m.
Monday folder flyers for this week are-