Monday Folder 9.18.17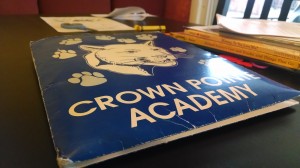 September 18, 2017
Our mission: The mission of Crown Pointe Academy is to promote creativity, curiosity, character, and community in a challenging Core Knowledge environment.
Thank you to all who attended last week's 20th Anniversary activities!  We hope you enjoyed the events.
Tomorrow, Tuesday, September 19th, is Fall Picture Day!  Uniforms are required for all students.  Information on ordering picture packages was sent home last week.  If you need another copy of the order form, stop by the front office or you can also order online at vangoghco.com.  Contact Leslie in the front office with any questions.
Progress reports were sent home with students today.  If your student owes fines or fees of $10.00 or greater, his/her progress report was held at the office.  Please stop by as soon as possible to take care of those fines or fees in order to receive your students progress report.
The first Building Accountability Advisory Committee (BAAC) meeting is this Wednesday, September 20th at 4:30 in the CPA library, and we are looking for new members!  The BAAC is responsible for reviewing CPA's academic performance, programming, finances, and safety and then making recommendations to the Academy Board.  If you're interested in joining this important committee, please join us on Wednesday.  If you have any questions, please contact Mr. Ouweneel or Mrs. Keyes.
Are you looking for volunteer opportunities? This Friday, September 22nd, is our first Brown Bag Pick Up event.  Stop by the cafeteria during dismissal, sign out a project, complete it over the weekend, and return it next Monday.  Don't forget to record your volunteer hours!
This week's documents include:
Middle School Newsletter 9.18.17
8th Grade Ropes Course Permission Slip
Chipotle Family Night (Spanish Trip Fundraiser)
CPA Yearbook Application (MS Only)
Wanted: Pictures for the Yearbook Flyer
Ukulele Band Informational Flyer
Don't forget to like us on Facebook to stay informed about school activities.
Have a great week!