Monday Folder 9.22.14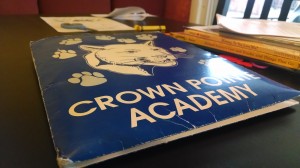 CROWN POINTE ACADEMY
SCHOOL NEWS
Monday September 22, 2014
Mission Statement:
The mission of Crown Pointe Academy is to promote creativity, curiosity, character and community in a challenging Core Knowledge environment.
Reminder!  The first Volunteer Work Night is on Friday from 5:30-8:30 p.m.  Join us to complete projects for CPA's staff members, get to know other CPA parents, and earn some commitment hours to help us reach our goal of 14,000 hours for the year.
So far this year, we have logged 957 hours.  Every hour helps, so keep turning them in!
Middle School Students– Save the Date!  There will be an Open Gym Night on Friday, October 17th from 6:00-9:00 p.m.  Join us for dinner and to play football, basketball, volleyball, capture the flag, etc.  The Rolling Video Games trailer will be there, too!  More information will be sent home in October.
Cougar Pride Week begins next Monday, September 29th.  These are non-uniform days as long as your children are participating in the Spirit Themes of the Day.  If not, the student must wear their uniform.
Monday, September 29th  – Sport Team Day
Tuesday, September 30th – Hawaiian Day
Wednesday, October 1st – Mismatch/Clash Day
Thursday, October 2nd – Crazy Socks / Hat Day
Friday, October 3rd –  Cougar Pride Day (Any Crown Pointe T-shirt in conjunction with Jeans Day)
Saturday, October 4th – Carnival Royal Fundraiser from 9:00 to 2:00 p.m.
Girl Scout Troop 3514 cordially invites girls and their dad (or special father figure) to the "Me and My Guy Dance" being held on October 11th.  See flyer for additional information.
Progress reports will go home today, September 22d.  If you owe more than $10.00 in fines and/or fees you will not receive your progress report.  Please contact Mrs. MacGregor if you have any questions.
Events on the Calendar:
Friday, September 26th – Volunteer Work Night from 5:30-8:30 p.m.
Have a great week!
Monday folder flyers for this week are (click on the link to the CPA website to view the flyers) https://www.crownpointeacademy.org
9.22.14 Middle School Newsletter
Me and My Guy Dance_Girl Scout Troop 3514
October Breakfast & Lunch Menu
October Commitment Hours 14-15
October Reading Calendar 14.15
Volunteer Work Night Flyer
This email is used for information regarding Crown Pointe Academy only.
Please do not reply to this message, as messages will not be answered.
For more information about Crown Pointe, please visit our website at
www.crownpointeacademy.org. To contact the school, please call 303.428.1882