Monday Folder 9.26.16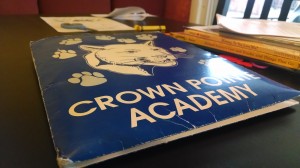 September 26, 2016

Our Mission: The mission of Crown Pointe Academy is to promote creativity,
curiosity, character, and community in a challenging Core Knowledge environment.
Parent-Teacher Conferences are coming up on Thursday, October 6th from 4:00-9:00 and Friday, October 7th from 11:00 to 7:00.  Elementary parents need to sign up for their time slot(s) using SignUp.com.  Please see the information on the CPA website for step-by-step directions on how to sign up.  Middle school conferences will take place on a drop in, first come, first served basis.  Please see the letter on the CPA website for more information on Middle School conferences.  We look forward to seeing you on October 6th or 7th!
Calling all artists!  The CPA Yearbook Club is looking for custom artwork for the cover of this year's yearbook.  See the flyer on the CPA website for more information.
Please remember to record all of your volunteer hours and help us reach our volunteering goal of 14,000 hours for the year.  Demonstrating strong parental involvement can help CPA qualify for grants and other funding opportunities, so it's important that every hour is recorded.  You can fill out the paper log and return it to the office, or you can record your hours online by sending an email to volunteer@crownpointeacademy.org.  Make sure to include your name, your student's name, and the total hours volunteered for the month in the email.  Thank you!
The EXPO Learning Lab is looking for parents and community members to share their talents with students.  The EXPO is an all hands on learning environment that CPA launched this year.
If you would like to sponsor the EXPO, check us out online here, or like us on Facebook to receive updates and information about what is happening in the EXPO classes.
This week's documents include:
Update 9-26-16
Middle School Newsletter 9-26-16
Middle School Parent-Teacher Conference Info
Elementary Parent-Teacher Conference Info
Calling All Artists
Rev Foods October Flyer
October Breakfast and Lunch Menu
October Reading Calendar
Commitment Hours-Parent Form


Have a great week!