Monday folder 9.28.15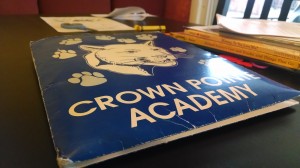 September 28, 2015
Our Mission: The mission of Crown Pointe Academy is to promote creativity, curiosity, character, and community in a challenging Core Knowledge environment.
It's Spirit Week!  Don't forget about the fun theme days each day this week.  See the Spirit Week Guidelines located on the CPA website for more information about each day.  This week is gearing us up for the Cougar Spirit Dance this Fridayevening.  This is a family event—every student must be accompanied by an adult.  We hope to see you there!
Join us for the PTA General Meeting with a special Parent Information Night this Thursday, October 1st at 6:15 p.m. in the CPA library.  Officer Dana Gerber will be presenting on Internet Safety.  A flyer with more information is available on the CPA website.
Parent-Teacher Conferences are next week.  Information on how to sign up for elementary conferences can be found on the CPA website.  There is also information for middle school conferences on the website.  Contact your student's teacher if you have questions about conferences.
Please see this week's edition of the Update for information on an important safety drill coming up on Thursday, October 1st.
Help us reach our goal of 14,000 volunteer commitment hours by logging your volunteer hours.  Demonstrating strong parental involvement can help CPA qualify for grants and other funding opportunities, so it's important that every hour is recorded.  You can fill out the paper log and return it to the office, or you can record your hours online by sending an email to volunteer@crownpointeacademy.org.  Make sure to include your name, your student's name, and the total hours volunteered for the month in the email.  Thank you!
This week's documents include:
Update 9.28.15
Middle School Newsletter 9.28.15
Middle School Parent Teacher Conference Letter
Elementary Parent Teacher Conference Letter
October Commitment Hours Form
October Breakfast and Lunch Menu
October Reading Calendar
PTA Brax Fundraising Letter
PTA Parent Info Night
October New Meal Flyers
Student Fitness Club for Grades 4-8
Morning Open Gym
2015 Cougar Spirit Week Guidelines


Have a great week!