Monday Folder 9.8.14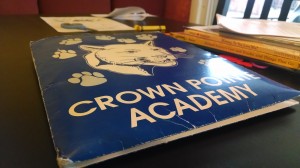 Hello!
The Van Gogh Photography Company will be at Crown Pointe Academy taking fall school pictures on Wednesday, September 10, 2014. This is a regular uniform day. Parents may pre order picture packages with the payment envelope that were sent home in the September 2nd Monday folders or by visiting www.vangogh.com and ordering online. If you have any questions please call Leslie Fiorini @ 303-428-1882.
Teachers are beginning to schedule field trips for the school year. If you are interested in being a driver or attending one of the field trips you must complete the necessary forms. We will also need a copy of your driver's license, insurance card, and vehicle registration. Some parents may have completed this at registration. Please check with the front office if you are unsure. This information is needed at least two weeks prior to a field trip.
Events on the calendar for this week are:
Academy Board Meeting – Wednesday, September 10th @ 7:00 pm
Have a wonderful week!
Monday folder flyers for this week are (click on the link to the CPA website to view the flyers) https://www.crownpointeacademy.org
Middle School Newsletter 9.8.14
Me and My Guy Dance_Girl Scout Troop 3514