Monday Folders 10.19.15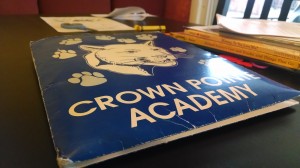 October 19, 2015
Our Mission: The mission of Crown Pointe Academy is to promote creativity, curiosity, character, and community in a challenging Core Knowledge environment.
Class pictures and re-take picture day is Tuesday, October 27th.  If you would like your student to re-take his/her picture, please bring the pictures you currently have to exchange. If your student was absent on picture day, an order envelope will be sent home.  Class picture order forms will also be sent home in the coming week. If you have any questions, please call Leslie in the front office at 303-428-1882.
Save the date!  Our annual Chick-fil-a Spirit Night fundraiser is coming up on Thursday, October 29th from 5:00-8:00 p.m. at the 104th and Federal location.  Chick-fil-a will donate 20% of all CPA's purchases back to the school.  The money raised will go towards supporting our volunteer efforts.  Make sure you tell the cashier in the store or at the drive thru that you're with CPA.  We hope to see you there!
Help us reach our goal of 14,000 volunteer commitment hours by logging your volunteer hours. Demonstrating strong parental involvement can help CPA qualify for grants and other funding opportunities, so it's important that every hour is recorded.  You can fill out the paper log and return it to the office, or you can record your hours online by sending an email to volunteer@crownpointeacademy.org.  Make sure to include your name, your student's name, and the total hours volunteered for the month in the email.  Thank you!
This week's documents include:
Middle School Newsletter 10.19.15
Me and My Guy Dance Flyer
Basketball Intramural (Grades 6-8)