Tuesday 2.16.16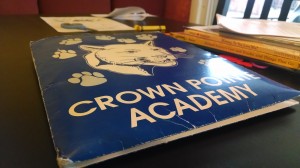 February 16, 2016
Our Mission: The mission of Crown Pointe Academy is to promote creativity, curiosity, character, and community in a challenging Core Knowledge environment.
Progress reports were sent home today.  If your student has outstanding fines or fees in the amount of $10.00 or greater, his/her progress report was held.  Please stop by the office to take care of those fines or fees and pick up your student's progress report.  If you have any questions about grades or assignments, please contact your student's teacher directly.
Parent-Teacher Conferences will take place next week on Thursday, February 25th from 4:00-9:00 and Friday, February 26th from 11:00 to 7:00.  Elementary parents need to sign up for their time slot using the Volunteer Spot program.  Please see the attached letter for more information on how to sign up.  Middle school conferences will take place on a drop in, first come, first served basis.  Please see the letter on the CPA website for more information on Middle School conferences.  We look forward to seeing you next week!
Parent surveys are now available.  To take your survey, visit the CPA website and click on the Parent Surveys link.  If we get 75% participation or higher, the whole school will earn a non-uniform day!
Debate judges needed!  Crown Pointe is hosing a debate competition for middle school students from 5 area charter schools this Thursday, February 18th from 4:00-6:30 p.m.  We need judges!  This requires no prior experience and will count towards your volunteer hours.  If you are interested in helping, please contact Sandy Murphy at sandra.murphy@crownpointeacademy.org.  Thank you!
Our middle school science program is looking for toilet paper and paper towel rolls (with no paper remaining on them) for a project.  Please collect these items at home and turn them into the office.  We are also looking for a used but functional mini refrigerator.  If you have one you would like to donate, please contact Marcia Roe at marcie.roe@crownpointeacademy.org.  Thank you!
This week's documents include:
Middle School Newsletter 2.16.16
Update 2.16.16
All For Books Donation Flyer
Elementary Parent Teacher Conference Letter
Middle School Parent Teacher Conferences Letter
Panda Express Spanish Fundraiser Flyer
Zumba Flyer
Have a great week!