Tuesday 9.6.16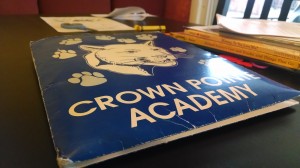 September 6, 2016
Our Mission: The mission of Crown Pointe Academy is to promote creativity, curiosity, character, and community in a challenging Core Knowledge environment.
The Denver Broncos first regular season game is this Thursday, September 8th!  To celebrate, this Thursday is Orange Thursday.  Students may wear Denver Broncos shirts or solid orange or blue shirts to school.  Also, if you purchased jeans day for your student for the year, he/she may also wear jeans on Thursday.  If your student is not participating in jeans day, regular uniform pants are required.
There's still time to purchase jeans day for your child for the year.  The deadline is Friday, September 30th.  The cost is $30 for the year.  Contact the office if you have questions.
As the school year gets underway, please remember the importance of having your student present and on time to school each day.  Students should be in their classrooms when the bell rings at 8:00.  If your child is tardy, please remember to walk your child into the office and sign him/her in for the day.  We appreciate your help in this matter.
Please remember to record all of your volunteer hours and help us reach our volunteering goal for the year.  Demonstrating strong parental involvement can help CPA qualify for grants and other funding opportunities, so it's important that every hour is recorded.  You can fill out the paper log and return it to the office, or you can record your hours online by sending an email to volunteer@crownpointeacademy.org.  Make sure to include your name, your student's name, and the total hours volunteered for the month in the email.  Thank you!
This week's documents include:
September Breakfast & Lunch Menu
September Reading Calendar
Commitment Hours Form
Middle School Newsletter 9.6.16
8th grade Play Audition Form & Information Packet
Class Dojo Parent View on Computer
Class Dojo Parent View on the Dojo App
Have a great week!